I'll start by saying why I got them in the first place. Good reviews everywhere about everything about them. I was also newly married with a wife in grad school. Money was TIGHT and my firestones were BALD. according to the reviews they seemed like a safe bet for cheap tires.
The tire
: Treadwright Guarddog b2b (bead to bead)
Size
: 285/75r16
Load Range D
Without Kedge Grip
Kedge Grip is a glass/walnut additive they can add to the rubber to help the rubber in essence break away, leaving pits, to give the user better traction. I wanted a hopeful longer life out of my tires so I opted to not have Kedge Grip.
The Price:
The price of course is what lured me to them. Looking back at receipts I ended up paying $664.96 for the set of four shipped to my house. I had a local tire shop mount and balance them for $6 a tire (I think they gave me a deal because they had never heard of such a tire and were full of questions). So total investment shipped, mounted and balanced was 688.96 for four mud tires.
1st Impression:
Upon the tires arriving at the house I was pretty excited of course to see my new tires. The tires are stamped with the treadwright name since they are bead to bead remolds and don't have another tire name on them like the original treadwright tires. The tires themselves seem very heavy, I'm assuming from the extra rubber they laid around the tire. The rubber is a very soft rubber, kind of "squeezable." It reminds me of the soft rubber you can find on the Nitto Trail Grappler tires or similar. The tread is very deep yet not widely spaced. The tread pattern is a copy of the old Goodyear MTR tread pattern. I bought a used MTR tire to use as a spare and was able to compare the treads. The Treadwright sidewalls are noticeably less aggressive and the treadwright tread pattern is a smaller ratio. so the lugs are a touch smaller and the spaces between the lugs are a touch smaller.
On Road:
Like any MT you have a hum on the road. It is a high pitch hum/whine, but relatively quiet in comparison to other mud tires I have experience with or rode on. Stopping power is excellent and I have not had any problems in wet conditions. So for a mud tire I would give them a good to excellent for road manners.
Off Road:
I am extremely pleased with the tires off-road. They have out performed any expectation I have had. They seem to have no problem in the mud or sandy conditions. I have not had them on rocks but I would imagine they would do well there also. To be a less aggressive mud tire I am impressed with the tires and seem to be an excellent compromise between on road and off road capabilities and performance.
Wear
:
I rotate my tires every 3,000 miles so I have seen very even wear and the life of the tires seem to be holding up very well.
The Blowout:
approximately 15K miles on the tires. exploded going down the highway at about 65mph. It appears it was caused by the carcass and not the retread.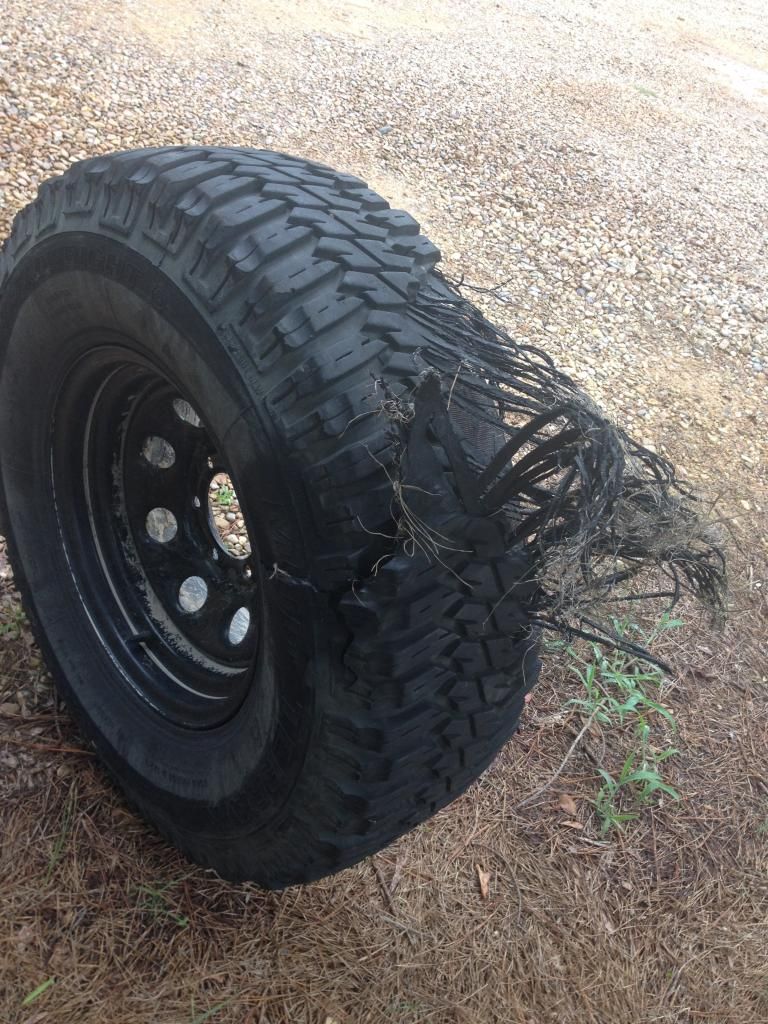 Customer service leaves much to be desired. It seems I have that kind of luck when it comes to customer service. Reviews I've read have raved about their customer service. It's possible they have gotten too big to care about customer service anymore. It took me a week and a half before I could talk to a customer service representative.
According to the insurance company there was $1924 worth of damage which affected the fender, quarter panel, fender flare, mud flap, and gas door.
The below timeline is what I kept track of in order to keep the customer service on the ball. They didn't seem to keep any records of anything. Luckily I did and threw it back at them quickly and seemed to be the only thing to keep them moving. Slowly moving, but moving none the less. As a good friend and coworker told me when all of this happened "DOCUMENT DOCUMENT DOCUMENT"
9/6/13 purchased tires
10/11/13 tires installed
6/28/14 tire blow out
6/28/14 3:20pm called, 1st message left with customer service
6/30-7/5 multiple attempts at online warranty, multiple attempted calls with no
answer
7/7/14 11:09am 2nd message left with customer service
7/7/14 11:17am spoke with sales representative who was also unable to contact customer service. stated she sent an email to customer service and to managers.
7/8/14 9:05am spoke with sales representative who redirected me to Eric in customer service. Eric filled out warranty claim. stated it would be 3 days. I emailed pictures at 9:20am. I received an email for the submitted claim at 9:22am
7/9/14 received a call asking for pictures (I stated they were already submitted and the girl said "ah yes I see, everything should be fine then")
7/11/14 received a call asking for pictures (I stated they were already submitted and the girl said "ah yes I see..." I then commenced to sharing my disgust with their department spouting back this timeline)
7/11/14 Eric from customer service calls back stating they reviewed the pictures and I will receive a new tire and $500 to cover my insurance deductible.
7/15/14 Kiana calls asking for PICTURES again
7/25/14 Kiana Emailed asking for PICTURES AGAIN
7/25/14 I emailed back and forth with Kiana and she "found the pictures"
7/28/14 I called Kiana to ask if things were moving along for my tire considering this was the day I had been on a spare for a full month. She ended up finally placing the order for my tire. She asked for a copy of my insurance claim (something they had not asked for before) I sent it.
8/13/14 I call asking about the status of my check. Kiana asked for my copy of my insurance claim. I got heated, throwing the timeline back in there very angrily. she magically found it and my check showed up in my mailbox on 8/16/14
MY CONCLUSION:
If you are extremely strapped for money and in absolute NEED for tires. These tires MIGHT be worth the gamble. I will NEVER go back to them in fear I have to deal with the customer service department. They ended up standing behind their product but with a lot of pushing and pressure from my end. I may have never heard back from them if I had not kept that pressure on them. If not strapped for money, then save another month and buy a good proven set of tires.