This is one way for those of us that wish to have rear speakers in a regular / Std. cab Taco. And with no drilling, cutting into any part (except 1 factory ground wire connector swapped out). Furthermore, connections rear speakers for those with the factory CD/Radio.
Disclaimer of course! Do not attempt any electrical work if you aren't confident in your abilities. Any work you perform is at your own risk. BUT with that being said, I believe you will see that there isn't much to this. The most time consuming part is the construction of the rear speaker boxes.
Radio Removal:
007Tacoma has a very good thread under "Mods and Tutorials" call Stereo Upgrade Basics… which can be also found at this link:
http://www.tacomaworld.com/forum/audio-video/571-stereo-upgrade-basic-how-2nd-gen.html
There 007 describes how to remove the factory radio. This is needed in order to wire the speaker wire for the rear speakers. Takes about 10 minutes to remove, 5 if you aren't over the hill like I am!
Wiring:
The smaller square connector that came from the back of the radio is for the rear speakers to connect (see picture below). Unfortunately for me I was unable to locate locally the inserts for me to feed the speaker wire into this connector.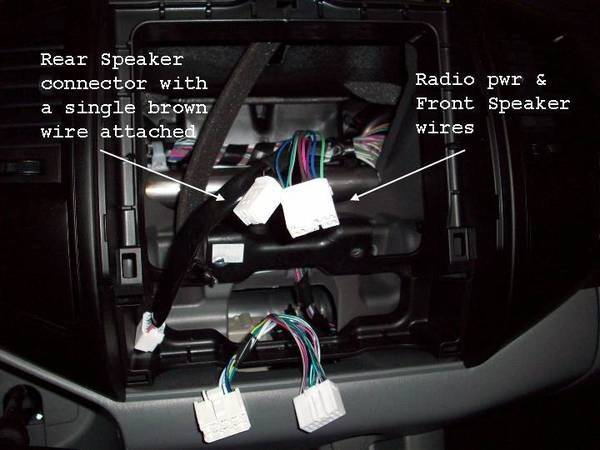 From the factory there was a single dark brown wire (ground I believe from my research) on this connector. I had to modify how to connect that brown wire and the rear speaker wires to the tabs from behind the radio.
Below you will see where the connection are for the factory brown wire and for the rear speakers: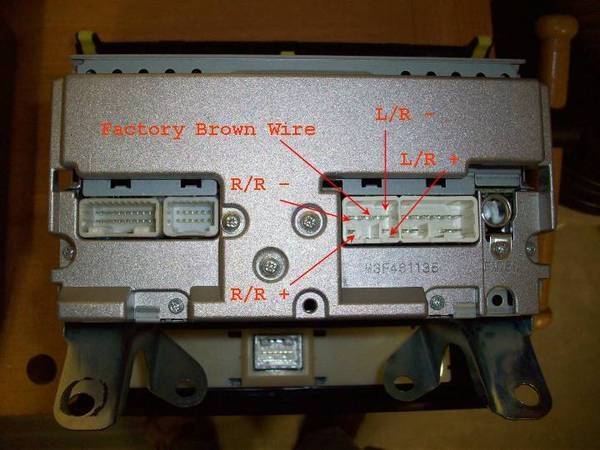 I couldn't locate connectors small enough so I used 18-22 ga. quick disconnects and modified them to size as seen below:
(edit: Tim Gainous posted below that Toyota Part#82998-12340 Female Connectors worked just fine for his install - Thanks Tim for your input)