Meet is OVER!!...ya missed it..
Picture thread will be here
http://www.tacomaworld.com/forum/off...ml#post7254390
Wyoming/Montana/Colorado Adventure 2013!!!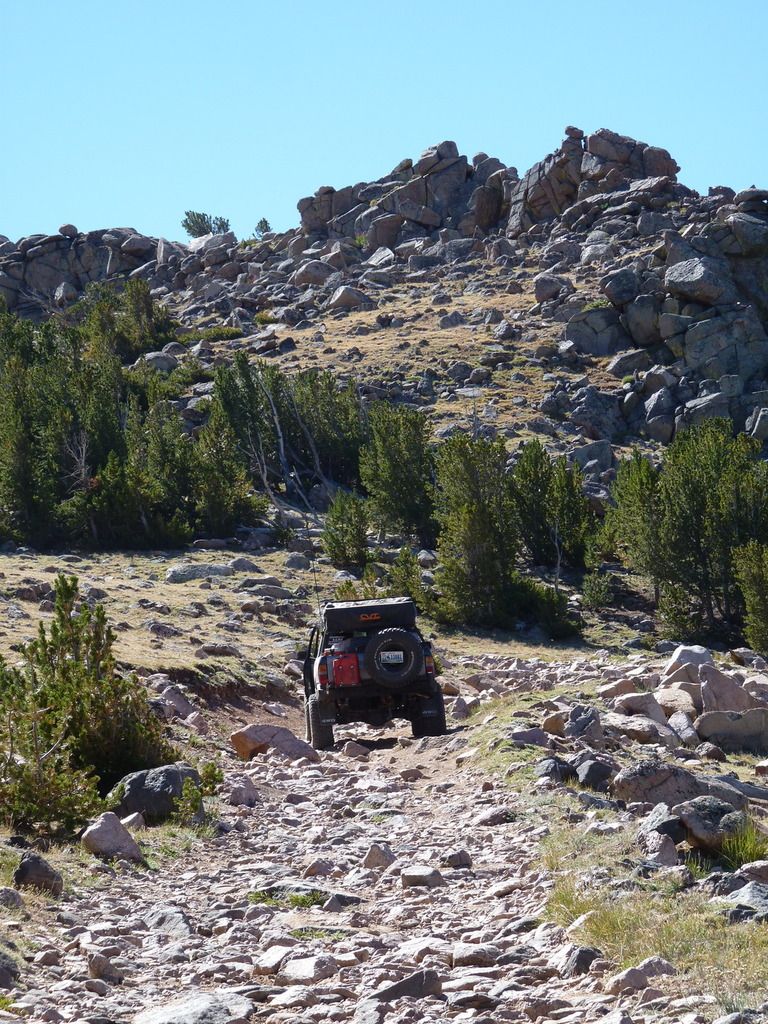 Official date to start!
August 5, 2013
we will meet at Clark for the starting point at 8 am! Don't be late!!
Wyoming Meet and more 2013
This is a
3
leg trip. So you can choose to come join us for which ever one you would like
Leg one starts in Clark Wy. Ends near Cooke City MT
Second leg starts and ends in Lander Wy
Third leg start clear down in southern CO at Ouray for the Alpine Loop
__________________________________________________ ________________
_____________________________
Day to day outline...
Leg 1, Morrison/Goose lake:
Day 1, August 5th:
Meet at Edelweiss Haus at 8 am SHARP.
Address
. From here we will head down road 292 till the asphalt runs out. Then air down and hit the Morrison Jeep trail! Depending on number of rigs that show up and other factors. I think it'll take us about 4-6 hours at the most to get up the switch backs with photo stops.
After we get to the top of the switch backs we will drive out most of the top portion of Morrison till we find a nice place to camp. Then we will spend the night on the Top portion of the Morrison.
If by some chance we blow through Morrison. We ill just contiune on to Goose lake and camp somewhere up there.
There is an alternate route!! if you do not wish to go up Morrisons switch backs, MTgirl is leading another side route that starts in Red Lodge on the 3rd. You will meet us at the top of Morrison. Contact her and I privately if thats what you are planning on doing!
here are details on that
Quote:
Originally Posted by
MTgirl
Here you go Monte, for the OP:

For the EASY, WIMPY, super scenic and camera friendly route with me this is the plan.
Saturday (August 3rd?), meet up in Red Lodge, MT sometime (noon-ish?). Head out from there to explore some of the area at the north end of the Beartooth Highway. Camp out along one of those side roads Saturday night.
Sunday, get up and head over the BTH, with plenty of camera stops along the way. Start on the north end of the Morrison and camp out along the trail Sunday night.
Monday, wait at the top of the switchbacks for Monte's group (you guys had better not sleep in!) and backtrack through the Morrison together...yada, yada, blah, blah...
Day 2, August 6th:
Assuming we don't get done with Morrison in one day. Continue to finish off the Morrison trail at around 8 or 9 id think into hwy 212, The Beartooth Hwy. We will have to air up for this I believe. Then drive down the awesome road stopping for photos when wanted all the way to Cooke City, MT. Here we will re fuel if needed ect.
Then, right across the street from the gas station is Miller road. This ties into the big loops or roads in the back country to Goose Lake. We will go left at the T. There are lots of cool off shoots to explore which we will for sure. Especially the Over look. But depending on time and how people feel about wheeling in the evening(mike
) we ill try to get to Goose Lake before dark. Very much looking forward to this trail. Should be gorgeous and fun for everyone.
Day 3, August 7th:
Now we head down the mountain. From the main trail off Goose lake there is more then one way to get back to the highway. We won't go back the way we came though cause come on..new dirt to be driven on
Either way we go we will get back on Hwy 212 until the turn off for hwy 296, Chief Joseph High way. Gorgeous road. Will be LOTs of photo stops I think on this road. But we will drive it all the way down the mountain till Hwy 120. At this point we have 2 choices. Go up to Clark again and then strait to Powell..i even know a dirt road back
. OR we can turn south and go to Cody. Eat at a nice place. Stop at the big nice museum (worlds largest gun museum I beileve
). I think timing will be the biggest factor. Either way, end up in Powell and hang out at my house. That is for the people that are going to Lander. Other are welcome but I have a feeling if you are only here for leg one you will be headed home anyways
.
For "camping" that night. I will host a BBQ and fire(mike
) in my back yard. It'll be at my parents house so please be courteous. Any donations of any sort towards the BBQ will be very much appreciated. My back yard is quite large so you all could do some urban camping and set your tents up there. Mike there is room for your RTT in the back too. I will also allow a nice shower to those that want. Id appreciate it if you brought your own shower stuff including towel though
If you not up for that. I can show you some nice BLM land about 5-10min outside of town that you can sleep out at. Or there is the park in town which I can't remember if you have to pay. Ill update that ASAP.
Leg 2, Lander:
Day 4, August 8th:
Okay! Doing going! Wake up way to early to hit the road. Around 7-8 is when id like to be on the road. This will put us in Lander around 11-12.
Those of you coming up to do leg 2 exclusively! You will meet us
here
at the Exxon in Lander. This is where we will be stopping for fuel. There is FREE camping at the city park for you
here
if you don't want to come up or down in the same day.
Those coming from Powell...im not going to write up direction to Lander..i know it like the back of my hand so just follow me...or..google is your friend if you dying to know
haha
Okay so once we regroup with the new guys in Lander. We will head out to Christina lake. This goes down hwy 287 for a ways and we will continue on hwy 28. We will get off at Louis Lake road
Here
Dont worry its a dirt road..maintained..but dirt
Now, if you look at a map you'll see LOTS AND LOTS of trails all over. There is TONS of camping areas around here. It'll be fun
Anyways we will air down here and continue on the Limestone road till we get to the trail head. Where we will stop and air down again if needed or whatever.
Then hit the trail. Not sure how long it'll take us. Jon and I did it pretty quick and we weren't in a hurry really. Rig count will greatly affect that though. Either way I hope to be back to the trail head at around 4 pm. Camping options are totally open. There will be lots of room for all our rigs at the trail head which is also next to a stream. I wouldn't mind just camping there..but if we want to keep looking, im not opposed to that either. There is a road that goes right next to Louis lake not to far up the road that looks like it could be cool too..Or fiddler Lake..or a few others..almost wish we could hit Wolf Trail too..but I digress..
Day 5, August 9th:
Get and leave! Not really, but we will get up and I would like to take Louis road all the way back into Lander. Figure the more we are on the dirt the better
After which we will refuel and such as needed in Lander. Maybe get lunch depending on time.
After which, we will start Shoshone trail!
My favorite.
From Lander we will take either Baldwin or Squaw Creek road, doesn't matter its just a loop. From there get off on the shoshone lake road.
Here
. We will then start the assect to 10,500 feet!
The down into the Lake valley(worst part of the trail). There will be room down there im sure for us all to camp. We will stay the night down there as I don't expect the going to be fast with the rig count that'll be there.
Day 6, August 10th:
Wake up at a reasonable hour. And start the climb out of Shoshone and head back down to Lander.
Here I think we will split our seperate ways mainly
. Mike, Eddie and I have a lot of miles to cover on the way to CO. Most will have to go home.
Those of us that are going on..
We will drive as long as possible. Try and make it to Grand junction I would hope. Something like
THIS
. I love the drive down through Craig and Meeker and such. Beautiful and fun.
Thats 6 hours of drive though or about. So will depend on how late getting out of Shoshone takes us. Really play it by ear. We can find a place to stay im sure. Hopefully we will meet up with Ben in GJ though.
Leg 3, Alpine Loop:
Day 7-12, August 11-16th:
From Grand Junction or where ever we end up. We will continue to Ouray, CO to get on the Alpine loop!
Here
Only a 2 hour drive from Grand Junction so we can sleep in a bit as far as im concerned.
Anyone that is meeting up with us maybe try and be in Ouray around noon. I don't have anyone really signed up for just the Alpine loop so ill work out details as people sign up.
From Ouray we will start the Alpine loop. This is 6 trails all over the awesome Rockies. Honesty, I have no plan for this part. We have about 4-5 days to just drive around get out and explore all the stuff. I think it'll be be fun.
Please look below for more details on actual trails and gear ect.
__________________________________________________ ________________________
Leg 1, Morrison and Goose Lake
2-3 days
This is the first leg of the trip. We will meet in a small town of Clark, WY. Most likely at the bar on HWY 120. Edelwise I believe is the name.
MAP:
http://goo.gl/maps/mq901
Also a photo, sorry that there is constuction going on in the photo..
THERE IS NO GAS STATION HERE YOU MUST COME WITH A FULL TANK!
Id recommend having a spare 5 gal tank. I will have 15 extra gals that I will be more then willing to share if need
We will then take state high way 292 all the way till..well it ends
up in the Clarksfork Canyon. This is where we will air down and do a last rig look over before we start up the trail.
https://maps.google.com/maps?saddr=2...ra=ls&t=m&z=13
This trail is not hard! You don't need a bad ass all mighty rig to do it. You DO need balls of steel though. The trail is pretty easy just a bumpy road. But the hard part is the switchbacks. There are 28 of them and it literially goes up a cliff face. Corners are very very tight. The view is amazing though and it'll be a huge challege. We will have many expereinced people here to help so do be scared. If you are worried about it. Figure out a way to drop your rig at the top of the trail. Mtgirl(Lisa) Is planning on doing this her self. You then can just ride shotgun with someone. We will make sure there is room.
Trail Info:
PLEASE watch these vids and look at these threads. Its the best "warning" I can give you. No one is responisble for damge to your rig but yourself. I have walked this trail but not driven it. It is VERY steep and a sharp drop off. But very very doable as well
This is a nice thread to show you...
http://www.pirate4x4.com/forum/gener...een-there.html
and xoverland has the best video footage of it. Just remember your not towing a trailer
http://vimeo.com/49113546
More videos:
http://www.youtube.com/watch?feature...&v=UwYbMwLddhI
http://www.youtube.com/watch?v=9gx4uoDUIMM
http://www.youtube.com/watch?v=UosJGVAYrpg
Top part of the trail
http://www.youtube.com/watch?v=CQadwZpp0GY
Map:
http://www.trailfu.com/mountain-bike...l/Default.aspx
Courtesy Lisa(MTgirl)
After this we will finish the trail out. There are a few more steep sections after the switchbacks but nothing drastic.
ALTERNATE ROUTE!
-IF you are NOT comfortable with going up the Morrison. No problem
MTgirl has offered to lead a second group down the bear tooth high way stopping off on some cool side roads. Lots of GREAT photo ops and great driving. This group will then meet us that drive up the morrision on the TOP of the switch backs. here are the details.
Quote:
Originally Posted by
MTgirl
Here you go Monte, for the OP:

For the EASY, WIMPY, super scenic and camera friendly route with me this is the plan.
Saturday (August 3rd?), meet up in Red Lodge, MT sometime (noon-ish?). Head out from there to explore some of the area at the north end of the Beartooth Highway. Camp out along one of those side roads Saturday night.
Sunday, get up and head over the BTH, with plenty of camera stops along the way. Start on the north end of the Morrison and camp out along the trail Sunday night.
Monday, wait at the top of the switchbacks for Monte's group (you guys had better not sleep in!) and backtrack through the Morrison together...yada, yada, blah, blah...
then you would just contiune on with the rest of the main group up to the next trail.
Please let me and Lisa know if you going to do this section instead. So far there is a few that have opted for this.
nothing wrong with that. You will still have fun and see some AMAZING country.
Depending on how many rigs come and how long it takes us, we will either just camp up on top of the canyon or drive to the start of Goose lake. But rig count will be a huge factor in this so its not totally certain where we will camp. But its WY
lots of room to sleep
Either way we will continue to Goose Lake Trail via the Beartooth Hwy west up into MT for a bit. Beautiful drive. This trail looks pretty easy as well with a few rougher sections. But I have full confidence after talking to locals a stock truck can make it. But it'll also depending on the driver. We can also stop for fuel if needed in Cooke City.
Cooke City/Trail head:
https://maps.google.com/maps?q=Goose...+city&t=m&z=14
This is our route we will most likely take. About 16-18 miles. I think we will end up camping up by the lake. But I'll go find out for sure late in the summer.
in
RED
is the main route to take along the ridges then dropping into the goose lake trail.
the
yellow
is a side trail that takes you to a vantage point on the edge of a huge bowl
the
white
is the final return back to the highway.
Courtesy of Ben(m3bassman)
I don't know enough about this trail to say yet, but i think you'll be able to just leave your rig on the side if an area is too tricky or you can always entrust your truck to a fellow member to just get over the one obstacle. Your call. It does look pretty rough but nothing crazy. again a stock truck should make it just fine. Stock jeeps do
Just typical Beartooth/WY mountain stuff..There are also many other road back in there that we could just go explore
all depends I think on how much time we want to spend up there as we have a lot of ground to cover over the next few days.
As I just stated, I don't know a TON about this trial..yet. I plan on going up there in May or June to get a full scout out of it. So don't worry. I do know it GORGEOUS up there so you'll love it
Trail Info:
Some pics:
http://www.rangerovers.net/forum/7-r...l-montana.html
This is my fav video. Looks so fun!
http://www.youtube.com/watch?v=YsljvoPhiwA
This is the worst obstacle I believe on the entire trail. Not a great vid, but its focused on it. You see the jeeps getting over it too on the dirt bike one. This FJ is stock and doesn't pick a great line and did it so you can too!!
http://www.youtube.com/watch?v=vPNPVncOtGk
All in all, classic WY trail. Very rocky and loose. But it'll be a fun trip. Both hit over 10,000 feet or near it!!
Okay, so that is part 1! Could be a 2 day thing, a trail a day. Or maybe 3. And now the start of part two.
Part 2, Powell BBQ, Lander Trails:
Okay, so from Cooke City, we will take the beautiful chief Josph Highway back down to Clark and then to Powell. My home town
http://goo.gl/maps/AEHEb
In powell I will put on a BBQ(any donations to the cause would be greatly appreciated
) And showers and just hang for a day or so as it'll take a while to get back to Powell. We can maybe go shooting(ben) and I have a buddy that might be up for giving rides in his 600hp mustang
As for bedding, im not sure on that..You can get a hotel room if you'd like. Or I think I could find a place for you to camp or at least setup your tent for the night in some urban camping
Then we will awake early id say and head out to Lander.
http://goo.gl/maps/1X0Tx
For those from CO or anywhere really that want to meet us. If you come the day before. I suggest just camping at the city park! Its Free!!
City park..
http://maps.google.com/maps?q=lander...m&z=16&iwloc=A
Just get on Main street go south on 2nd street!
Its a good drive to get there. But not a horrible drive. Depending on when the powell folks want to leave we can haul butt to get to lander. Refuel at the Exon on Hwy 789 on the North east end of Lander and meet up with anyone else in Lander that wishes to come with us. Then hit our first trail, Christina Lake.
Exxon:
http://goo.gl/maps/oq0EX
Christina lake is a GREAT trail. It starts off super easy and ends just right. It is NOT a super hard trail. There are like..3 places that are a bit picky. But one has a by pass and then other isn't too bad. The thrid is a river crossing with a big ledge after. But again. I have full confidence a stock rig could do this trail.
Map: It is kinda drive out there..
https://maps.google.com/maps?saddr=L...ra=ls&t=m&z=11
Sliders and lift I think are almost mandatory for these lander trails especially the second one but ill get to that.
2ND GEN OWNER PAY ATTENTION!!!!
This trail is VERY VERY narrow at the top. I had to fold in a mirror to make a corner. The trees get super tight. There is room for you to leave your rig at the river crossing which I am almost going to make mandatory! IF YOU TAKE YOUR RIG PAST THE RIVER YOU
WILL
DAMAGE YOUR TRUCK!! You will smash the body
sorry guys
The trail is only like 400-600 yards longer past the river.
Trail info:
http://www.youtube.com/watch?v=EP_9E0XuL0U
http://www.youtube.com/watch?v=MRV78...eature=channel
http://www.youtube.com/watch?feature...&v=hBMTnmQRhyY
The trail can be done in about 2-3 hours. So if we start by noon we will have plenty of time to run it then come down from the trail and setup a nice camp. There is TONS of room to camp around Christina lake.
Day 2:
Then I say we wake up sort of early. Then there is a back route back into lander if we want to stay on the dirt(which I know Mike will
) by taking the Louis lake road back to lander. Then we can refuel restock in lander in needed before going to hit the second trail. Shoshone Lake.
Okay, so this trail is a bit more hard core. Its not drastic but im going to give you fair warning.
Trail Head:
http://goo.gl/maps/9It4e
Tail goes all the way to the lake..trust me idk why it doesn't go there on the map.
Strongly suggested mods:
33'' Tires, skids, sliders
Why? Well..Jon and I ran this last year and I have 33s and was dragging ALL over the place. I am still confident we can get someone with 31s down the mountain to the lake and out no prob. But it'll just be slow going. Don't be scared to ask for spotting which really I wouldn't be surprised if someone was out for the entire way down to the lake.
The lake is beautiful and there is lots of room to camp so I say we camp there for the night and come out and back to lander the next day
gives us plenty of time to get in and out and I don't want anyone to kill their rig. I have been there, its not fun to kill a rig, I will do everything in my power as I'm sure everyone else will to ensure you get out safety with the littlest damage
Trail info:
Shoshone Vids:
http://www.youtube.com/watch?v=5nJq0...eature=related
http://www.youtube.com/watch?v=7b80O...eature=related
http://www.youtube.com/watch?v=jZJfP...eature=related
Okay and here is my own trip report from last fall. TONS of photos and some vids. We did both trails in 1 day. But I think it'll be more fun going a bit slower so we don't almost loose a rig
Jon has told me he very well could end up coming out here as well
It would be great to have him help out on these trails.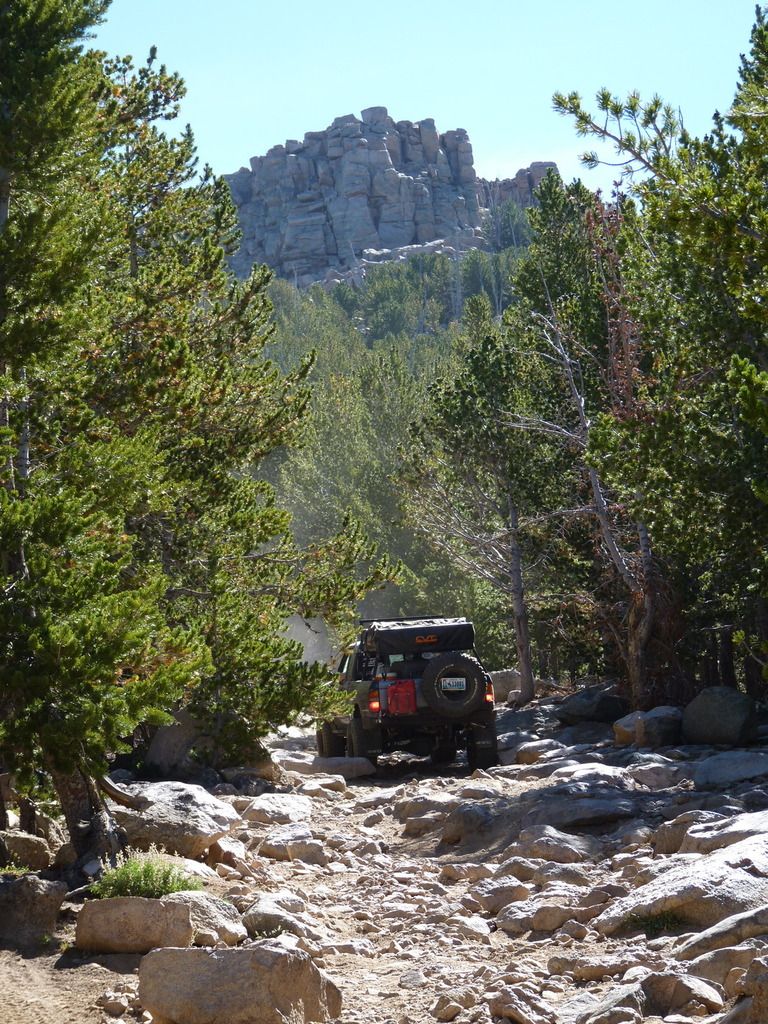 Trip report:
http://www.tacomaworld.com/forum/off...ml#post5496626
Old thread:
http://www.tacomaworld.com/forum/nor...et-2012-a.html
Okay. So that part takes about 3 days as well. Now on to part 3
Part 3, Alpine Loop in CO!
For the Final leg we will dive all the way down to the south west part of CO to run the Alpine loop! It'll consist of these trails.
Cinnamon Pass 2-3
Corkscrew Gulch 2-3
Black Bear Pass 4-5
Imogene Pass 4-5
Mineral Creek 3
Engineer Pass 2-3
I really am hoping a few CO guys will join us and maybe some how has done it to lead as we haven't done it. Im still gathering a lot of info on this but watch this video to get the gist of it
here is our Route. We will start in Ouray and go clockwise. This puts the eaisier trails first. So if you have a stock rig, feel free to join us for some awesome views and cliff side driving. Hardly any obsabtacles on the first day, nothing drastic. Then we will camp around Red Mnt No.1 and Bonita peak i think. Or somewhere in that range. We then take corckscrew glutch back to the hwy(its missing from the map but its there) then ride Black bear down, and Imogene Pass back up to Ouray. these trails are a bit harder..but nothing super crazy either. I think all the trails will take quite a bit of nerves to drive as they are on cliffs a lot.
http://goo.gl/maps/DwATp
Should be a great loop!
http://www.youtube.com/watch?v=2SZ9LWfTmFw
http://www.youtube.com/watch?v=dmd6CTYgwC0
http://www.youtube.com/watch?v=0SRT3-70Kmg
http://www.youtube.com/watch?v=Ko6u1w-y4xw
Its a long haul from Lander. So that'll take a day or more as we have to come out of Shoshone too, and Mike isn't' big on driving at night
Google says 9 hours
http://goo.gl/maps/sEkMZ
We might stop in Grand junction id think to maybe meet up with some Denver guys and Batman hopefully
then leave from GJ?
Details will come on this third leg as it gets near. We are also hoping to get this planed right to meet up with Ben(rockgecko) who is planning on running it as well.
Then I was thinking of possibly hitting the Kokopelli on the way back up to get to GJ from Moab
http://goo.gl/maps/e84Du
But that might not be in the time line or budget for gas haha
Anyways, That my Ultimate trip for the summer. I encourage anyone to please come and join myself and some other TW members.
I know a few will be there for part one and some for part two.
Pick any leg of the trip to join, or please come to all
Check back regularly for updates on equipment to bring and more travel info and official dates.
Also i would like to add, this will be the large trip for my up and coming Blog. Not the launch trip, but i will still be doing a lot of filming hopefully. And anyone that would like to contribute is more the welcome too!