While modding and maintaining this truck I've found a few rust spots in unusual places as well as some places that have a strong potential for rust. Thought I'd share what I've found, especially with so many people discovering Fluid Film (for more info on this stuff, just search). Please add any additional places you've found rust as well. BESIDES the frame...which has been discussed to death throughout TW
.
Here's a few links to 2nd Gen rust or potential rust:
Specks of rust in the paint
Rust near rear door handles on double cabs
or this one.
Removing rusted bed bolts
Painting rusted bed bolts
Rust under rubber door seals
Polishing rusty chrome bumper
Rust inside door
Protecting against rust inside door and tailgate
Inner fender and firewall seam
LCA/Lower Control Arm Bushing rust
Rust under/around headlights
Cowl area near hood hinges
One place that has been discussed before is behind the lower portion of the front fender, i.e. behind the front mud flaps. You can
read this
, or just what I've got below:
My highly prized rust sniffing dog alerts me to the driver side door jam: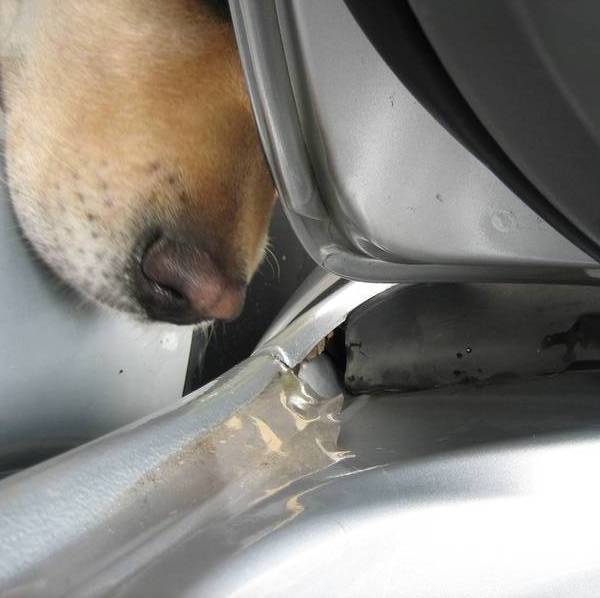 Just stick a finger under that rubber gasket/flap and pull up a little to see if you have leaves and junk in there. This is what I found: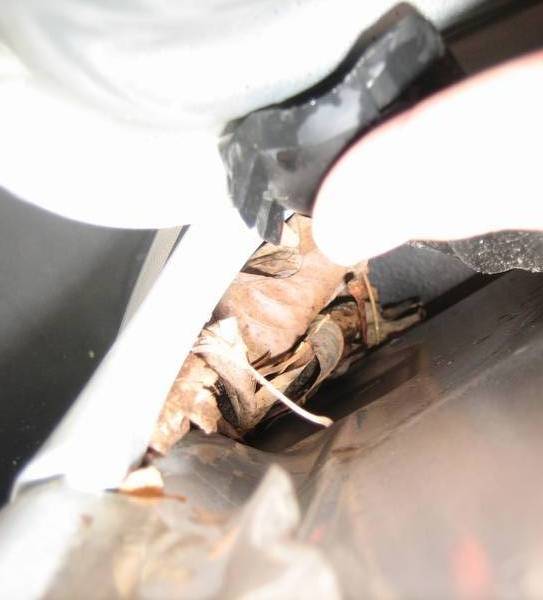 I removed the mud flap and pulled out the leaves. Under those dry "leafy" leaves were decomposing leaves and a little mud: a wonderful moisture trap and breeding ground for rust: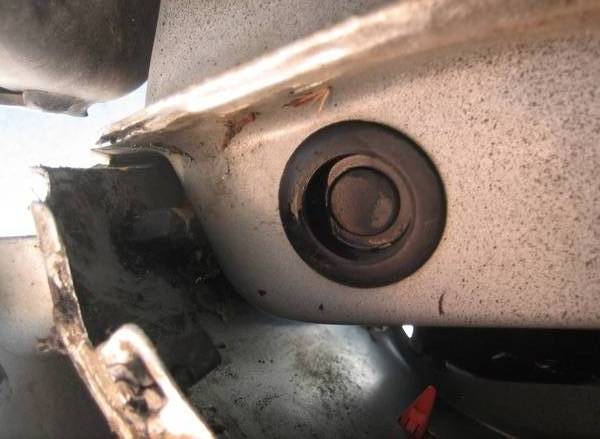 Luckily I found no rust, only the potential for future rust. The only way to get it completely clean was to blast it out with a hose; preferably from both the door jam side and the mud flap side. To do that you will have to remove the mud flap and pull aside a little bit of the fender liner. Simply park the truck with the wheel turned sharp (left to remove the drivers side; turn right to remove the passenger side), remove some plastic rivets & fasteners with a flat head screw driver and a few 10 mm bolts and that's it. Then I blasted out the junk with water and let it dry. But don't get too crazy with the water when blasting from the mud flap side, esp if your door is still open...my seat is still wet
. If you've come this far you might as well coat this area with something; I sprayed the area with Fluid Film, but everyone has their favorites. At the very least clean that area out once a year.
If you want to go one step further, you can prevent/discourage leaves from getting behind the fender in the first place. Leaves typically find there way into the cowl area, at the base of the windshield. From there they blow into a hole between the inner and outer fenders, right where the hinge for the hood is. All you need is to put something in that hole to keep leaves out but will allow some air to circulate. I used some scrap drawer liner that I rolled up. Chances are you have something that will do the job: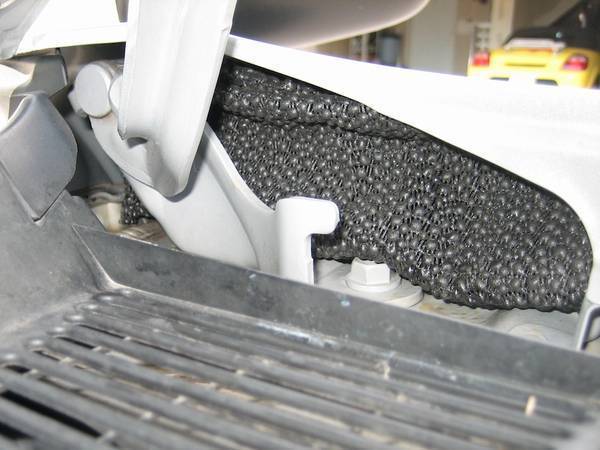 One more thing: see that rubber plug in the third picture? You'll see it when you remove the mud flap and inner fender. Remove that plug and peak inside. My camera would not get a useable picture of it, but that's the inside of the area below your door sill. Nothing real useful, just interesting.